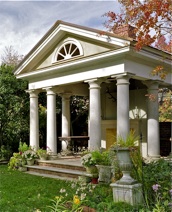 During more than thirty-five years in business, Oak Grove Restoration Company has evolved from a high-quality woodworking shop into a full-service general contracting and consulting company specializing in historic preservation and the careful conservation of irreplaceable historic architectural fabric. Our diverse client base includes state and local governments, the National Trust for Historic Preservation, the National Park Service, private homeowners, historic sites, and house museums.
Oak Grove Restoration Company possesses strong capabilities in design-build, general contracting, and construction management drawn from the individual
backgrounds of our personnel and from their collective knowledge of historic structures and experience in building conservation. We also maintain a staff of skilled preservation carpenters and continue to operate our own traditional millshop, allowing us direct control over the repair and replication of historic millwork, windows, and doors. Utilizing this broad range of services, we work with each client to develop and implement projects that meet their particular budget, schedule, and other operational requirements. We pride ourselves on our long-term relationships with many clients and on our ability to work collaboratively and creatively with a wide variety of preservation professionals, trades, and property owners.